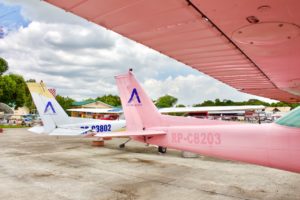 What license do I need to become an airline pilot?
A prospective airline pilot candidate needs at least a Commercial Pilot License (CPL) to be considered by an airline.
What are the requirements to enroll at Aviair?
Medical clearance from CAAP
NBI Clearance
Photocopy of any government-issued ID (driver's license, voter's ID, passport, SSS/GSIS, etc.)
Photocopy of passport (for foreign students)
What aircraft do you use?
We have our own well-maintained and certified airworthy fleet of Cessna 152 and Cessna 172 aircraft, widely recognized as safe and ideal training aircraft.
Do I need to be a college graduate to apply?
No. You only need written parental consent if 17 years of age and below to qualify for the Private Pilot License (PPL) program.
How long will the whole program take?
Taking into consideration weather conditions and student proficiency, the whole program up to Instrument Rating can be completed in 12-16 months. Our Certified Flight Instructor Course will take an additional 3 months.
How is Private Pilot License (PPL) different from Commercial Pilot License (CPL)
The PPL is for the hobbyist pilot who flies purely for sport or leisure. The CPL is required for pilots who are compensated for their flying. Additionally, you need to be a CPL holder to qualify for Instrument Rating training.
What is Instrument Rating?
It is the additional rating needed by a pilot to fly in inclement weather, low visibility or nighttime. An IR-qualified pilot will be able to fly aircraft by relying on flight instruments and even without visual reference outside.
Do you offer any scholarships?
Right now we do not offer any scholarships. We recommend inquiring about personal and/or education loans offered by banks. We can provide a flexible schedule for working students.
What are career options for pilots?
Depending on your license and additional ratings, you can qualify as an airline or charter pilot here and abroad. Pilots can also become a flight instructor, ground school instructor, flight simulator/instrument rating instructor, check ride pilot, and cargo pilot.
Do you guarantee job placement?
We do not guarantee a job placement but if you are able to successfully complete our rigorous training and refresher courses, you will be airline-ready and able to send airline applications with confidence.